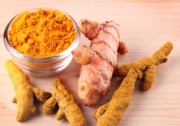 If you've been struck with a cold or just suffering the winter blues, this ginger manuka tea will soothe the discomfort and help you recover.
Ingredients:
1L water
Thumb size piece of ginger, grated
1/2 thumb size piece of turmeric, grated
1-2 tablespoons of Manuka honey
Directions:
Boil ginger and turmeric up in a saucepan and allow to simmer for 20 minutes.  Add honey at the end and stir in.
*This recipe is a lovely warming drink, to be enjoyed heated or at room temperature.  It contains warming and antioxidant herbs, as well as the healing and protective properties of honey.  Make up in bulk and drink through the day.
For more recipes sent directly to your inbox, don't forget to subscribe to our free e-newsletter.