The festive season. A time of celebration, gathering with loved ones & indulgence.
A little indulgence here is there is absolutely nothing to worry about, in fact, we even encourage it. It's a healthy dose of soul food we all definitely need & should enjoy. However, with the abundance of the fantastic festive parties & celebrations often comes an abundance of decedent treats & over-indulging which leaves most of us feeling pretty blah come January (it's no wonder everyone's New Years resolution involves weight loss & getting into shape).
So in an effort to keep this magical time of year more balanced we are sharing our best healthy Christmas recipes to give you a little extra festive inspiration. It's always nice to have some healthy options on offer among the Christmas Cake & Champagne :)

Main Meals
Christmas Ham
1 x 4kg ham
2 cups Guinness stout
Glaze:
3/4 cup firmly packed coconut palm sugar or brown sugar
1 1/2 tsp dry mustard
3/4 tsp ground cardamom (grind your own seeds and the flavour will be twice as good)
3/4 tsp ground ginger
1/4 cup freshly squeezed orange juice
2 -3 tbsp extra Guinness stout
Cut a scallop pattern around thick end of ham shank and ease skin from fat by slipping the thumb of one hand under the skin and firmly sliding it back and forth. Turn ham over and ease away rest of skin, which should come off in one piece. Place ham fat side up on a rack in a roasting pan containing 2 cups stout.
Cover ham with foil, making it airtight as possible and bake in preheated slow oven (160C) for 2 hours. Lift foil and baste with drippings several times during cooking.
Remove from oven and pour off liquid into a tin. Using a sharp knife, score fat with 5cm deep diagonal cuts, first one way and then the other to form a diamond pattern.
Glaze: Mix sugar, mustard and spices with 2-3 tablespoons of stout and spread half the mixture over ham. Mix remaining glaze with orange juice. Increase oven temperature to hot (200C) and bake ham for further 30-40 mins, basting every 10 mins with remaining glaze.
Serve hot or cold.
Christmas Turkey
Turkey is my favourite meat and it is even more special at Christmas because there are so many people to share with.

Turkey Preparation & Stuffing
If your turkey is frozen, thaw the turkey in the fridge over a couple days.
24 hours before cooking the turkey – get a bucket that will hold the turkey and make the following brine which you will marinate the turkey in for 24 hours.
This does require a spare fridge that has the room. This makes the turkey so moist and tender.
Brine
4 cups of water brought to a boil – add:
1 cup Himalayan fine salt
¼ cup Coconut sugar
6 small twigs of Rosemary
8 twigs of Thyme
Dissolve well & cool
Put turkey in the bucket & add the above brine and top with water to cover bird & place in fridge for 24 hours.
Stuffing for a 6 – 8 kg Turkey
Stuffing – make at least 1 hour before turkey goes in oven.
¼ cup Butter
2 medium onions – chop finely
5 large stalks of celery – use the whole stalk (leaves and all) – chop finely
Saute the above & when cooked place in a large bowl
Salt to taste
Prepare 4 cups of bread cubes – either a very nice sourdough or our favourite is Sol Breads Megagrain. Place on a baking sheet and bake 180 degrees in for 10 minutes.
Add bread to onion/celery mixture and add the following ½ cup finely chopped flat celery ½ cup Chicken bone broth (I prefer the mixture to not be too wet – but you can add more broth if you want it more moist. The cooking process will make it moist as well.
Season with fresh thyme & cracked pepper
Stuff bird.
Cooking time for stuffed Turkey is approximately 20 – 30 minutes per kg + 90 minutes. I use a meat thermometer and the bird temperature should be 180 F or approx. 85 C. Cook turkey at 180 C.
Sides & Salads
Turkey, Cranberry & Wild Rice Salad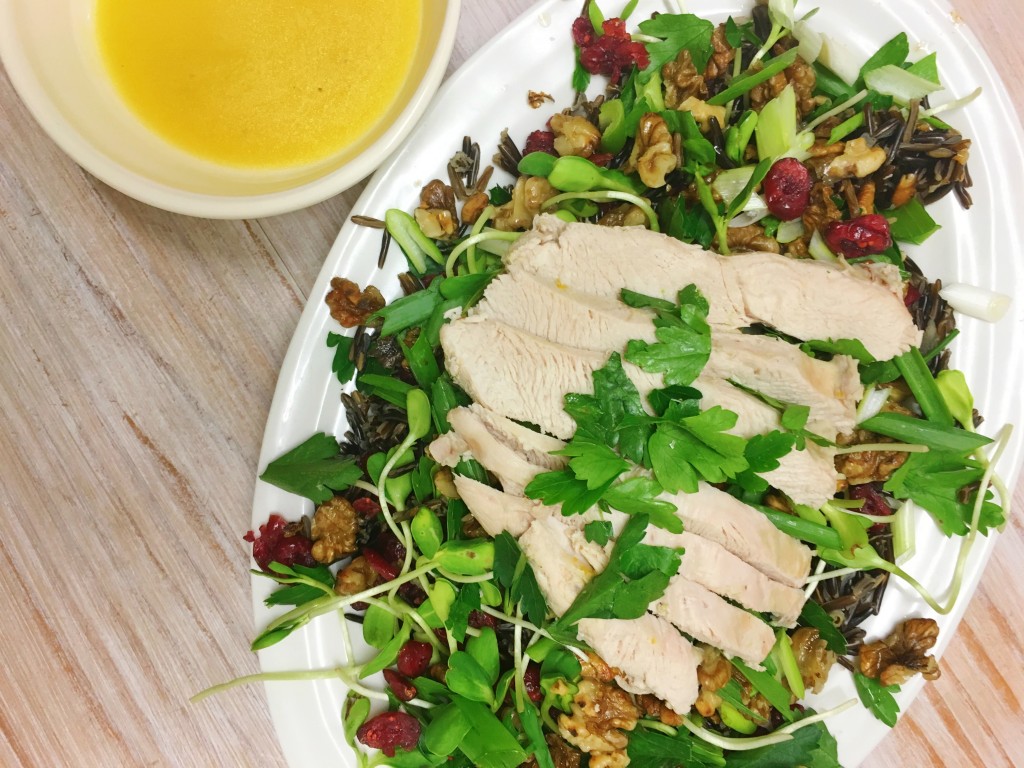 For the poached turkey:
500g organic turkey breast
Handful fresh thyme
1 orange (rind)
1 cube Massel vegetable stock
1 star anise
For the salad:
1 packet of Chef's Choice Wild Rice (150g)
1/2 cup sunflower sprouts
1/4 cup walnuts, chopped roughly
1/4 cup dried cranberries
1 eschallot, halved length-ways and chopped
1 good handful of parsley, chopped
For the dressing:
1/2 orange (juice)
1/4 cup organic extra-virgin olive oil
2 garlic cloves, minced
1 tsp stevia granules (or 1-2 tsp maple syrup)
Salt and pepper to taste

Method
For the poached turkey:
Bring 4 cups of water, the thyme sprigs, orange rind, vegetable stock cube, and star anise to the boil.
Add turkey breast to seasoned water, reduce heat, and leave to simmer uncovered for 20mins.
Take turkey from the seasoned water, and let sit to cool before slicing.
For the salad:
Bring 630ml of water to boil in a medium saucepan.
Add wild rice to boiled water, reduce heat and simmer covered for 45 mins.
Drain any excess liquid and fluff with a fork.
Heat (lightly toast) chopped walnuts in a small fry pan.
Assemble salad by layering the rice, cranberries, sprouts, walnuts, eschallots, parsley, and turkey.
For the dressing:
Combine orange juice, olive oil, garlic, stevia, salt, and pepper in a small jar.
Shake to combine and drizzle over prepared salad.
Cheesy, Kale & Cashew Salad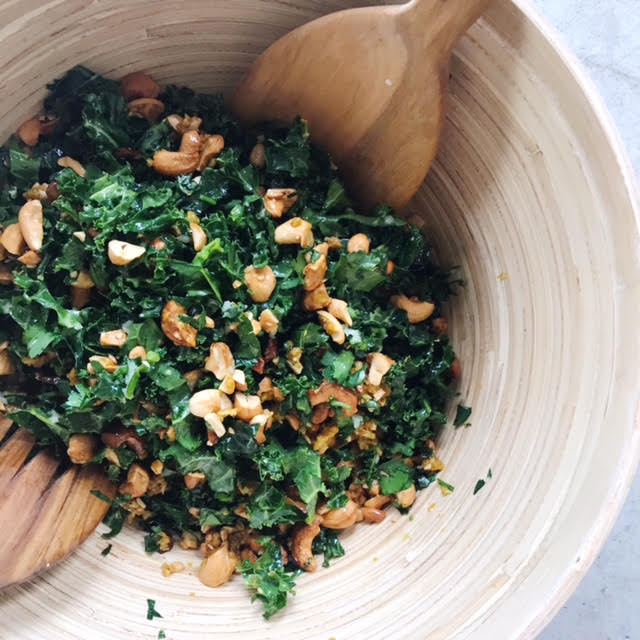 Ingredients
1 large bunch of kale (finely chopped)
2 cloves of garlic (minced) + 1 large clove (grated)
Good quality olive oil (4 tbsp. for dressing + 5tspn for rolling)
1 cup raw cashews (roughly chopped)
4 tsp Nutritional Yeast flakes (we like Braggs)
1/4 cup fresh lemon juice
Salt & Pepper
Method
1. Roast cashews in pre-heated oven at 180C for approx. 10-15 minutes or until toasty golden brown.
2. Whilst cashews are roasting prepare the salad dressing: mix 1/4 cup lemon juice, 2 cloves garlic (minced), 4 tbsp olive oil, salt & pepper in a bowl & combine.
3. Pour dressing over finely chopped kale & massage in with your hands. This helps to break down the kale so that it's not as tough & fibrous.
4. In a separate bowl prepare cashew coating: combine 4 tspn nutritional yeast, 5 tspn olive oil, grated garlic, salt & pepper. Mix into a paste.
5. Once cashews have been roasted, add them to nutritional yeast mixture & evenly coat.
6. Add cashews to kale mixture, toss through.
7. Serve with baked pumpkin or protein of choice.
Grilled Pineapple Salsa
A refreshing light side dish perfect for a hot Christmas day!

½ ripe pineapple – trimmed & sliced
1 red capsicum – chopped
1/2 red onion – chopped
1 jalapeno – finely chopped (can be left out to make more kid friendly)
1/4 to 1/2 cup coriander – chopped
1 lime
Salt & pepper to taste
Method
Grill pineapple slices on a well oiled grill until start to caramelise ( I.e. 5-10 min)
Allow pineapple to cool enough to handle,  then chop.
Place all chopped ingredients in a bowl,  squeeze over the juice of 1 lime, then toss.
Add salt & pepper to taste.
Awesome chilled & served with seafood on a hot Summer's day or night!
If you don't have time to grill the pineapple the recipe is still delish too ;)
Desserts & Sweet Treats
Paleo Gingerbread Cookies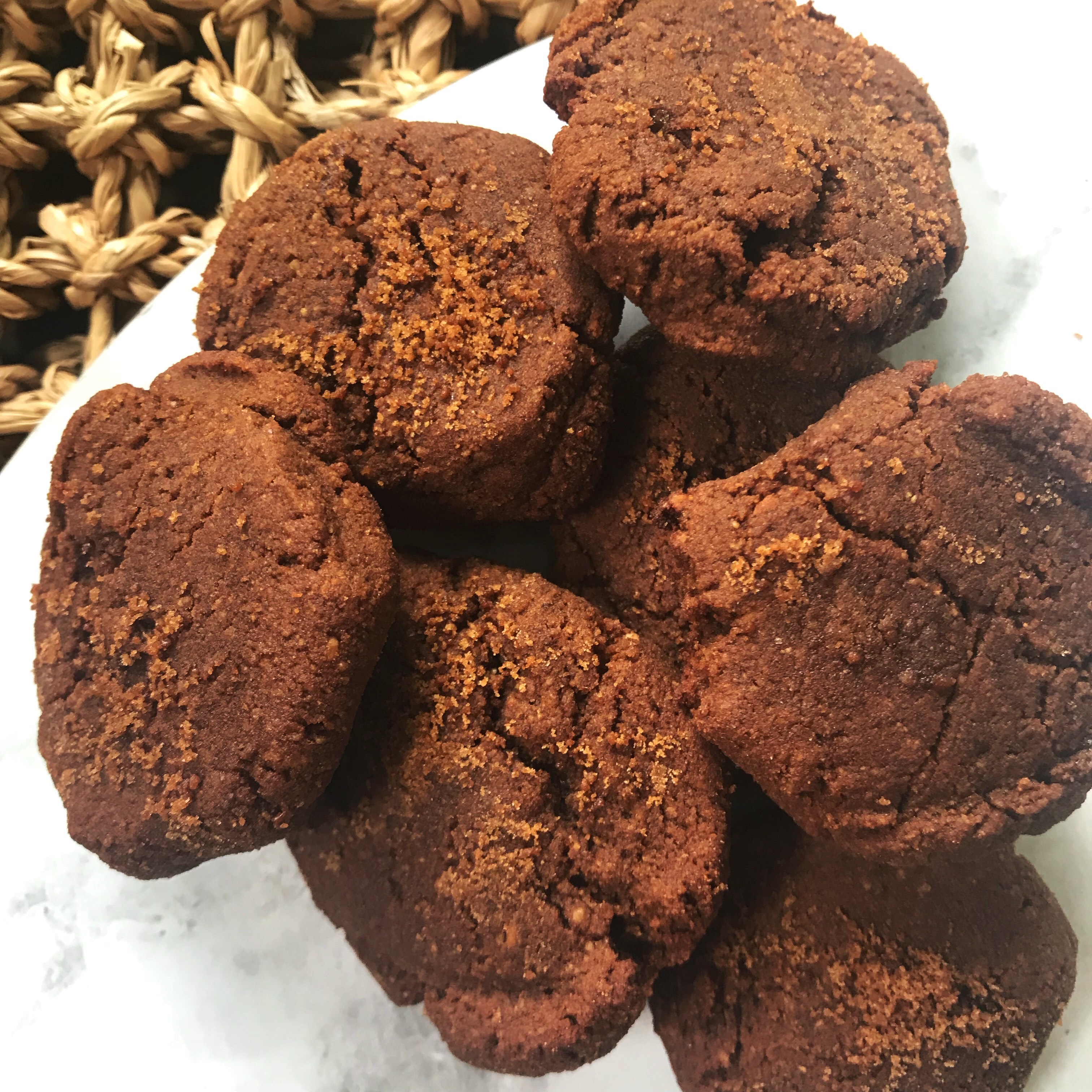 Paleo, Dairy Free, Gluten Free
Serving: 14 Large Cookies
Ingredients
1 Whole Egg
1 Egg Yolk
2/3 C Almond Butter
2 Tbsp Coconut Oil
1/4 C Organic Molasses
1/4 C Coconut Sugar
1 Tsp Pure Vanilla Extract
2/3 C Coconut Flour
1 Tsp Baking Soda
Pinch of Himalayan Salt
1 Tsp Cinnamon
1 1/2 Tsp Ground Ginger
1/4 Tsp All Spice
Extra Coconut Sugar for Sprinkling
Method
Preheat Oven to 180 Degrees and line a large baking tray with baking paper
In a large bowl, hand whisk/electric beater to combine the Egg, Egg yolk, almond butter and coconut oil. Add the molasses, coconut sugar and vanilla and continue to mix until smooth.
In a separate bowl, combine the coconut flour, baking soda, salt and spices. Add the dry mixture to the wet ingredients until fully combined. (The dough will be sticky). Chill in the freezer for 5-10 minutes until it thickens and can be easily scooped.
Use a rounded spoon to scoop the dough in heaped tablespoons on the baking paper, then gently flatten and sprinkle with coconut sugar if desired.
Bake for 8-10 minutes until the tops crack. Don't over cook, the cookies will become firmer once cooled.