The joys of pregnancy are abundant, but sometimes so are feelings of pain and discomfort.  Reflexology is a gentle and nurturing therapy that may assist in managing many of the commonly felt pregnancy discomforts, such as:
Morning sickness
Back pain
Pelvic pain
Swelling/oedema
Constipation
Fatigue
Since there are few medical interventions that can be applied during this delicate time, finding comfortable and natural solutions to alleviate these symptoms is needed. Reflexology is an ancient art in healing and is a solution many women are turning to.
Reflexology is like a full body massage applied through the feet. It provides: comfort, Increases health and wellbeing.  The endorphins that are produced during reflexology reduce cortisol levels and induce relaxation for both mother and baby.
For post-partum mothers, especially those who have experienced a caesarean and/or birth trauma, they can be gently treated via reflex points in the feet and/or hands improving the recovery time and process.
A reflexology session is given on a supportive and comfortable semi-reclined massage table. There is no need to undress as the therapy is applied just to the lower legs, ankles and feet. The therapist will apply pressure using specific thumb and finger techniques, stretching and moving over reflex points. This 5000-year-old therapy is sometimes called zone therapy as the body is divided into zones with corresponding reflex points located in the feet. By stimulating these points, a message is sent to the spine and the central nervous system and from there a signal is sent to the brain and corresponding organs of the body.
Pregnancy is the perfect time to put your feet up, indulge yourself and enjoy the many benefits of reflexology with a trained therapist in a nurturing and supportive environment.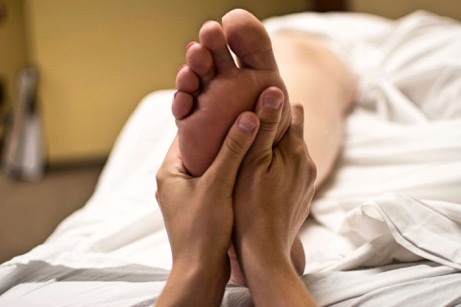 Please Note:
Even though reflexology is safe during pregnancy there are some conditions in which it is contraindicated such history of multiple miscarriages, deep vein thrombosis, high blood pressure and pre–eclampsia.  Please contact us to discuss if you are unsure before you book.  It is also important to let your GP/Obstetrician know that you are receiving reflexology treatments.