Through-out winter we love nothing more than coming home to the smell of a slow-cooked meal. There truly is nothing that beats that aroma. This turkey number is the perfect healthy & nourishing comfort food.
Turkey is one of our favourite animal proteins here at Vive. Naturally low in fat & rich in tryptophan, an amino acid which supports the production of serotonin, a neurotransmitter necessary for mood, sleep & cognition.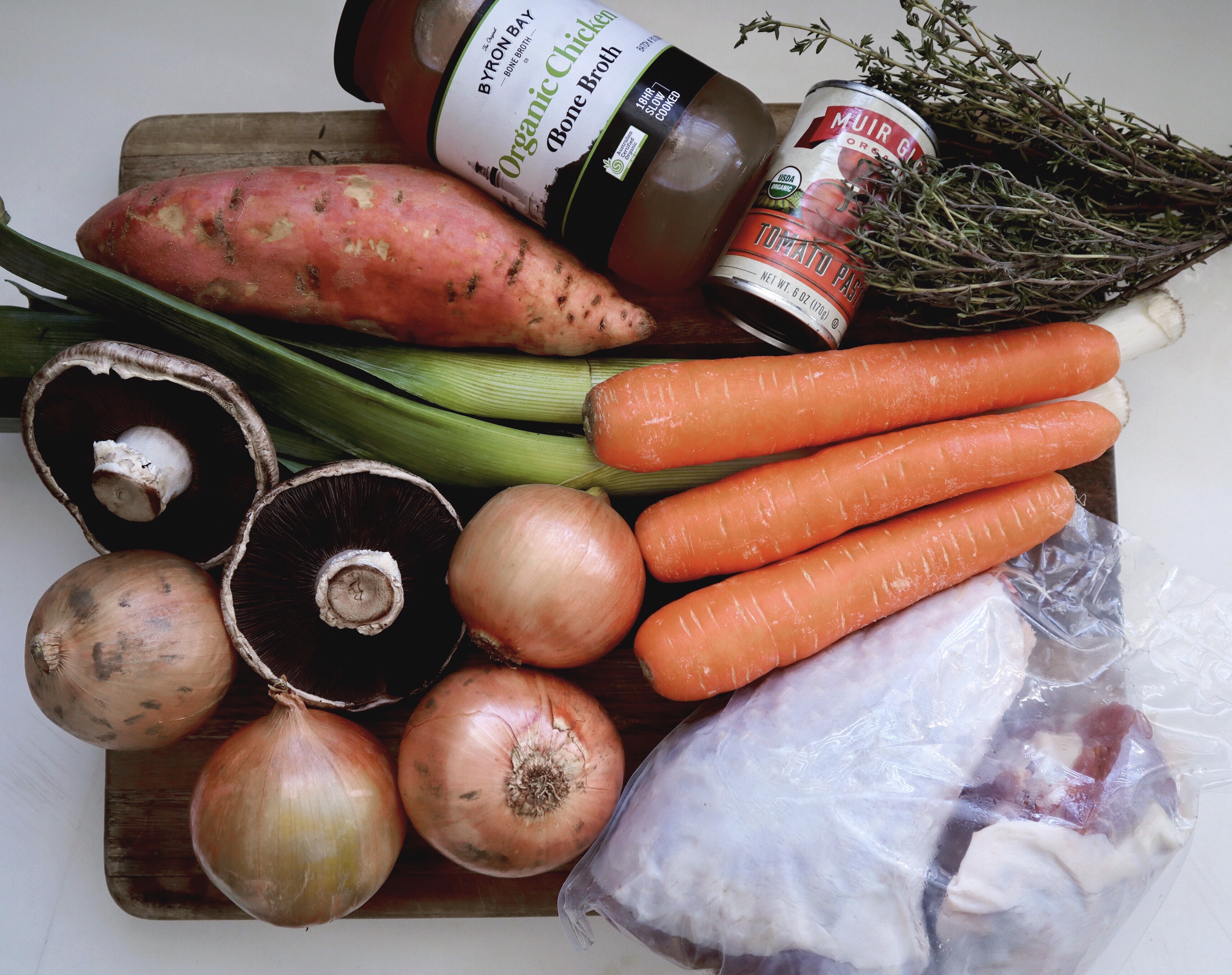 Ingredients
Turkey – 1.8 kg – you can use a combination of Turkey shanks and Turkey wings
4 medium size brown onions
olive oil
440 gr button mushrooms
3 cloves garlic
1 cup dry red wine
2 sliced leeks
3 large carrots – sliced big pieces
1 small sweet potato (optional) – cut into chunks
3 dried bay leaves
6 sprigs fresh thyme
4 sprigs rosemary
1 ½ cups chicken broth
1 can Muir Glen tomato paste
To thicken 20 minutes before serving
¼ cup cornflour
2 tbsp water
Peel onions and cut into quarters – heat oil and cook onions & leek until browned & remove from pan
Leave mushrooms whole or cut in ½ and brown in olive oil & remove from pan
Brown turkey until brown on all sides & remove from pan.
Heat wine in fry pan used for browning until light boil.
Place turkey at bottom of slow cooker, next onions, leeks, mushrooms, carrots, sweet potato, herbs, stock, wine & top with tomato paste.
Cook in slow cooker on low approx. 7 hours –
Remove all bones & skin before thickening (the easiest method to removing the bones is to remove the turkey from the slow cooker, place onto a plate, remove the bones & then add the meat back into the slow cooker).
20 minutes before serving thicken with corn flour mixture.