We find ourselves right now in a very surreal time. All our favourite cafe & restaurants are closed for dine-in service, our local grocery store is running out of staples or limiting what you can purchase & many of us are unable to leave due to isolation requirements. During this time however it's still so important, we try to prepare healthy meals for ourselves to keep our health & our spirits up. For this reason, we believe it's important to equip yourself with a list of staple recipes so you can prepare wholesome meals for you & your family that are inexpensive, nourishing & easily changeable depending on what you have access to.
The key to these recipes are pantry staples. A well-stocked pantry is a happy pantry. This by no means going overboard & hoarding goods. Do you really need 18 cans of chickpeas?? Probably not….unless you really, really, really like making hummus of course. It's about having 1 or 2 of a variety of cooking ingredients. Having a variety of pantry staples on hand not only means you can create healthy meals easily on a daily basis with very little effort (you might need to pick up 1-2 fresh ingredients or use whatever veg is left in the fridge or freezer) but you can also create meals if you are unwell &/or unable to leave your home regularly to stock up. The opportunities really are endless. You can put down the 2 minutes noodle for the 5th day in a row!
Here is a basic list of some great pantry staples to give you some inspiration:
Tins of beans, legumes, lentils, chopped tomatoes, coconut milk/cream
Dried beans, legumes & lentils (there are loads of easy recipes for preparing dried beans/lentils online)
Tomato passata & paste
Dehydrated stock (i.e. stock cubes or powder) or long-life liquid stock
Rice (any type)
Pasta (ay type)
Onions & Garlic (storing these items correctly will dramatically increase their longevity)
Potatoes, sweet potatoes, carrots, pumpkins (as above – storing these correctly will increase their longevity)
Cooking oils: examples include extra virgin olive oil, coconut oil, ghee, butter
Dried herbs: examples include rosemary, parsley, oregano, thyme, bay leaf, fennel seeds, etc.
Dried spices: examples include turmeric, ginger, cumin, paprika (smoked or sweet), ground coriander, curry powder (mild or hot), cinnamon
Tins of tuna, salmon, sardines
Flavourings: miso, fish sauce, toasted sesame oil, tamari/soy sauce, etc.
Pesto (the best way to jazz up some roast veggies for a quick meal)
Frozen veggies (you can either purchase them already frozen or freeze yourself) – harder, non-salad type veggies freeze really well if you simply par-cook first https://www.allrecipes.com/article/how-to-freeze-fruits-and-vegetables/
Sweeteners – brown rice syrup, maple syrup, coconut syrup, date syrup etc.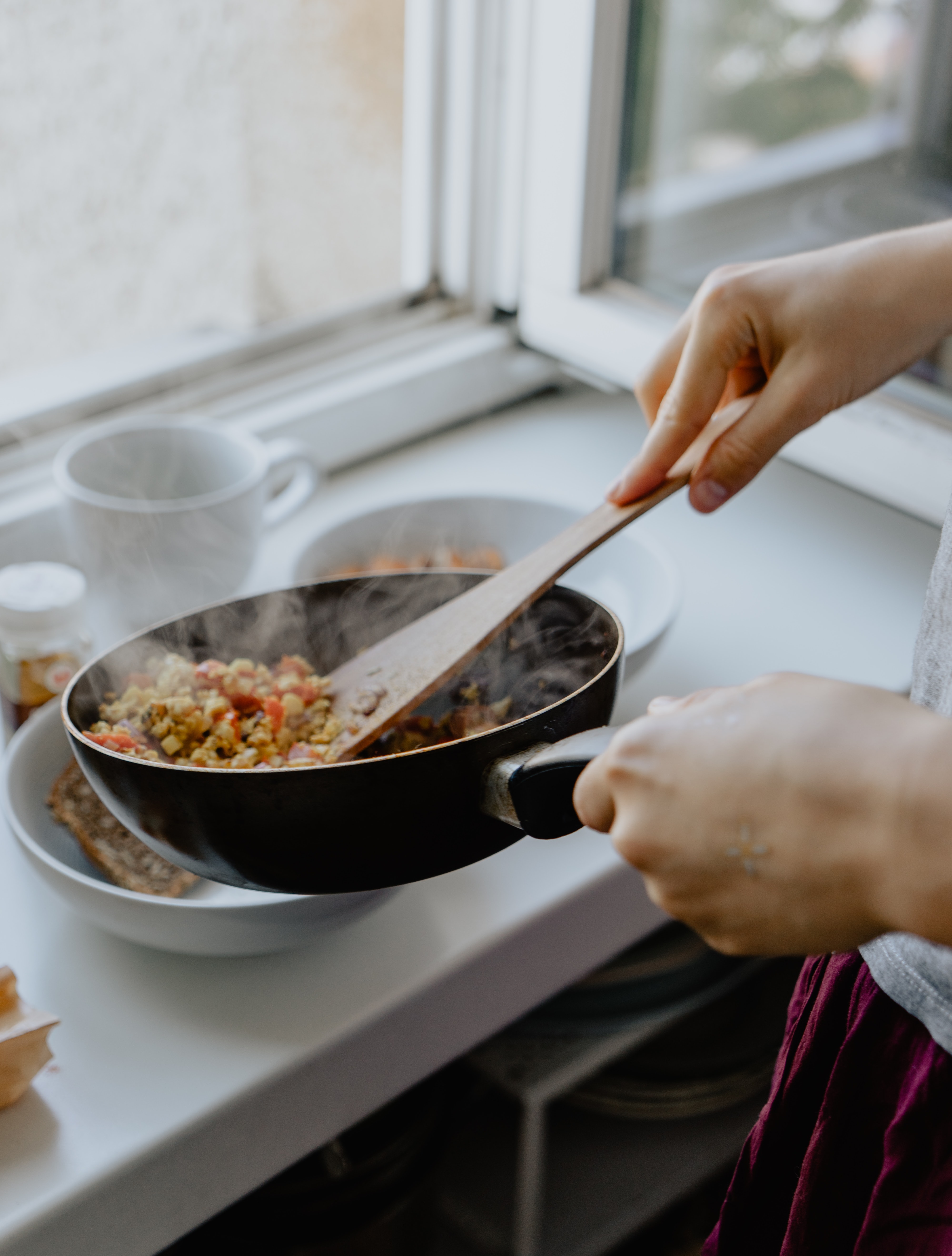 Here are a list of basic recipes we love to cook, they are all easy to batch cook & freeze if needed. It's also really important to be flexible with meals, as you may not be able to find what you need at the time or you are unable to leave your home during to illness. The aim is to simply use what you have, get comfortable with swapping ingredients. That's why it's so important to have a few easy base recipes up your sleeve.
Here are are few we all cook:
Homemade Baked Beans
Homemade baked beans are such a nutritious & wholesome meal. They are unbelievably easy to make from scratch & are such a great base recipe. Feel free to add any fresh greens you have on hand (i.e. spinach, kale) to boost the nutritional value.
250g tinned haricot beans
2 cloves of garlic, peeled & crushed (or more if you really like garlic)
2 x 400g tins chopped tomatoes
2 tbsp of either date syrup/brown rice syrup/maple syrup
200g tomato puree
Optional: ½ tsp of any of the following: smoked/sweet paprika, thyme
Place peeled & crushed garlic in a saucepan with tinned tomatoes & date syrup.
Allow mixture to boil & then cook over low heat for 30 minutes.
At this point add tomato puree, haricot beans & spices & cook for a further 10 minutes or until everything is nice & thick. Season with salt & pepper to taste.
Serve on good quality bread of choice or how you like really J 
Lentil Bolognese
1 x can of organic brown lentils (drained & thoroughly rinsed) – this can we swapped for minced beef/lamb/turkey if you prefer
2 x cans of organic chopped tomatoes
1 tbsp tomato paste (optional – makes sauce richer)
1 x brown onion (diced)
2 cloves of garlic (minced)
Handful of fresh or dried herbs (i.e. parsley, basil, chilli flakes, paprika or thyme)
Vegetables (approx. 2-4 cups) examples include: frozen peas, carrots, pumpkin, zucchini, eggplant, sweet potato, kale, spinach or mushrooms.
Optional Extras (only if I have on hand)
1 tbsp tahini paste (makes it slightly more creamy)
1-2 tbsp nutritional yeast (imparts a slightly cheesy flavour)
Juice & zest of 1 lemon
Sautee' onion & garlic until just transparent
Add herbs/spices & vegetables of choice. Sautee' until slightly golden/beginning to soften.
Add tinned tomatoes, tomato paste & lentils (& any optional extra ingredients). Season with salt & pepper.
Simmer until all vegetables are soft & cooked through (approx. 15 mins).
Serve with choice of pasta, zucchini noodles, sautéed greens or even on its own.
Basic Curry
500g chopped meat (leftovers are fine) or 1 tin of legumes (rinsed)
2 cups of chopped vegetables (whatever is in fridge)
Your favourite curry paste – amount depends of your taste & the strength, see guidelines on the jar
400mL of coconut milk
Serve with rice or cauliflower rice
Curry – Method
Heat curry paste in an oiled pan for 2 minutes.
Add meat & cook till brown.
Add coconut milk, stir & simmer on low to moderate heat until meat or legumes are soft.
Add vegetables & cook until vegetables are ready.
Cauliflower Rice – Method
Grate or blitz cauliflower (1 small till the size of rice grains.
Lightly cook in an oiled pan over medium heat, put on the lid to steam, stirring occasionally until tender – 5 mins or so.
Season as desired. 
Basic Pumpkin Soup
If there was ever recipe that could taste so delicious with such little effort it's pumpkin soup. We like to play around with this basic recipe, adding all sorts of flavouring to spice it up so you never get bored. You can also use a combo of pumpkin, sweet potato & potato if you don't have enough of one type. There a hundreds of recipes online but here is a basic one to start with.
2 tablespoons olive oil
1 onion, finely chopped
1 leek, white part only, finely sliced
1 garlic clove, crushed
2 tsp curry powder (mild or hot) – you can also substitute this for any combination of ground spices you prefer
1 – 1.5kg peeled pumpkin, diced (jap or butternut) – if your pumpkin is larger you can still use it, simply add slightly more liquid to compensate. Remember minimise waste where you can!
1 large potato or sweet potato, peeled, diced
1L chicken or vegetable liquid stock
½ 400g tin coconut milk/cream
Heat oil in pan of low/medium heat, add onion and leek and cook for 2-3 minutes, until softened but not coloured. Add garlic and spices and cook, stirring, for 30 seconds. Add pumpkin, potato and stock and bring to the boil. Turn heat to low, cover and simmer for 30 minutes. Allow to cool slightly, then blend with stick blender (or mash if you prefer your pumpkin soup a bit more chunky).
Return soup to pan, stir through cream and reheat gently. Season and add some fresh coriander leaves or sliced spring onions if desired (or available to you).
Minestrone Soup
What a classic! Minestrone soup is such a fantastic meal to batch cook & freeze. You can also use whatever veggies you have on hand really. I made this recipe with just celery, cauliflower & beans & it was still delicious!
3 tbsp olive oil
1 onion (diced)
1-2 zucchinis (diced)
1-2 celery stalks (thinly sliced)
1-2 carrots (diced)
½ eggplant (diced) OPTIONAL
4 tsp minced garlic OR 4 cloves
4 cups vegetable broth
3 cups hot water
1 x can tinned tomatoes
2 x can red kidney beans (thoroughly rinsed)
2 cups fresh spinach OPTIONAL (only if available)
½ tsp EACH of dried basil and thyme OR 1tsp Italian herb mix
1 tsp paprika
½ cup pasta (regular or gluten-free) – macaroni style works best
Heat olive oil over medium heat in a large soup pot
Saute onion, celery, garlic, celery, carrots, zucchini and paprika in the oil for 5 minutes or until onions begin to turn translucent.
Add vegetable broth, tinned tomatoes, hot water, kidney beans, eggplant (if using) and spices (basil & thyme).
Bring soup to a boil, then reduce heat and allow to simmer (low-medium heat) for 20 minutes.
Add spinach leaves and pasta and cook for an additional 20 minutes or until desired consistency.
1 Pot Bean Chilli
250g mushrooms (quartered)
1 onion (roughly chopped)
1 red capsicum (roughly chopped)
2 tsp ground coriander
2 tsp ground cumin
1 tsp chilli flakes (optional)
1 tsp smoked paprika
1 tsp sea salt
1 tbsp olive oil
3 x 400g tins of beans (a mix of cannellini, red kidney & black beans work well together)
2 x 400g tin of chopped tomatoes
200ml stock (from liquid or cubes)
Coriander (to garnish – only if available)
Preheat oven to 180C (fan-forced)
Mix mushrooms, onion & capsicum with spices, salt & olive in large, deep roast tin. Transfer to the oven & roast for 25 minutes.
Drain & thoroughly rinse all the beans & add to the tin with the chopped tomatoes & stock. Give everything a good stir, return to oven to cook uncovered for a further 35 minutes.
Basic Veggie Fried rice
Fried rice is the best way to use up any leftover rice you have stashed in the fridge. Again like the other recipes, it's so easily adaptable to whatever vegetables you have left in the fridge. Get creative with your fried rice.  The only non-negotiable is the cold rice. That's right the best way to make crispy delicious fried rice is to use cold-left over rice.
Not only will it taste great but cold rice is a great source of resistant starch prebiotic to promote the health of your microbiome.
3 tablespoons olive oil, butter or other cooking oil
2free range eggs, whisked
2medium carrots, peeled and diced
1small onion, diced
1/2 cup frozen peas
3 cloves garlic, minced
salt and black pepper
4 cups cooked and chilled rice (either short-grain white rice, basmati or brown rice) – you could ever try using quinoa too!
3 green shallots, thinly sliced
3–4 tablespoons tamari/soy sauce, or more to taste
2 teaspoons oyster sauce or fish sauce (optional)
1/2 – 1 teaspoon toasted sesame oil (depending on taste preference)
Heat ½ – 1 tbsp oil or butter in a pan & cook egg into a light scramble. Remove from the pan & set aside.
Add another 1 tbsp oil to pan & add all veggies here with a big pinch of salt & pepper. Sautee until carrots & onions are soft (approx.. 5 mins). Increase heat to high, add 1 more tbsp of oil & add cold rice, shallots, tamari & oyster/fish sauce. Cook for another 3-4 minutes to crisp rice up & then add eggs back in. Stir to combine. Remove from the heat & stir in sesame oil.
Stay healthy & well :)
We'd love to know what your staple recipes are at home.