Quick and Simple Magnesium Rich Meal No. 1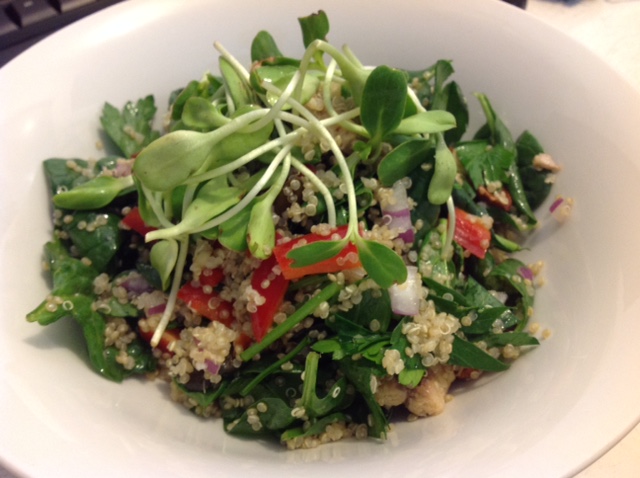 Serves 4 (about 200mg elemental Mg/per serve)
Ingredients:
1.5 cups Quinoa (about 300g)
1 Jar Good Fish Spanish Mackerel
160g Baby Spinach
60g Flat Parsley
60g 2Die4 Activated Almonds
60g Pumpkin Seeds
1 Red Capsicum sliced
1 medium Spanish onion finely diced
Fresh red Chilli (add to suit taste)
Dressing:
2 tbsp olive oil
2 tsp finely chopped fresh ginger
2 cloves garlic crushed
2 tsp fish sauce
2 limes juiced
1 medium lemon juiced
Season with salt and pepper to taste
Pre-cook Quinoa in salted boiling water for 15mins or until soft. Drain and allow to cool.
Add all ingredients to a salad bowl and gently combine. Add all dressing ingredients together and blend. Add salt and pepper to taste. Combine dressing with salad ingredients and mix well. Top with Sunflower Sprouts and serve.