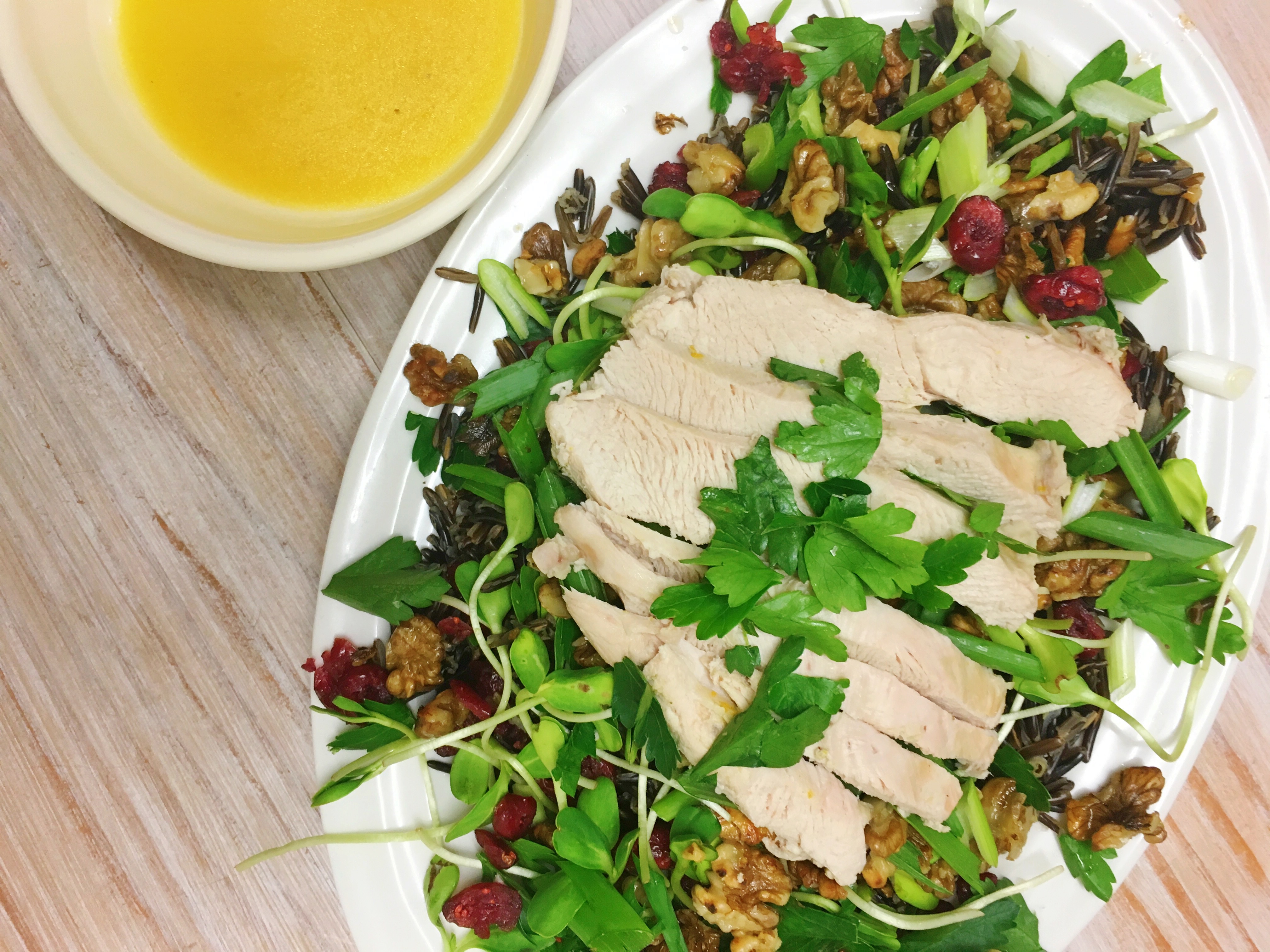 This is the perfect Christmas Day salad! Not only is it easy to prepare, absolutely delicious and nutrient dense, but you can also make it ahead of time for an even more seamless Christmas lunch…  I know I won't be waiting until the 25th to make this again – yum!

What you'll need…
For the poached turkey:
– 500g organic turkey breast
– Handful fresh thyme
– 1 orange (rind)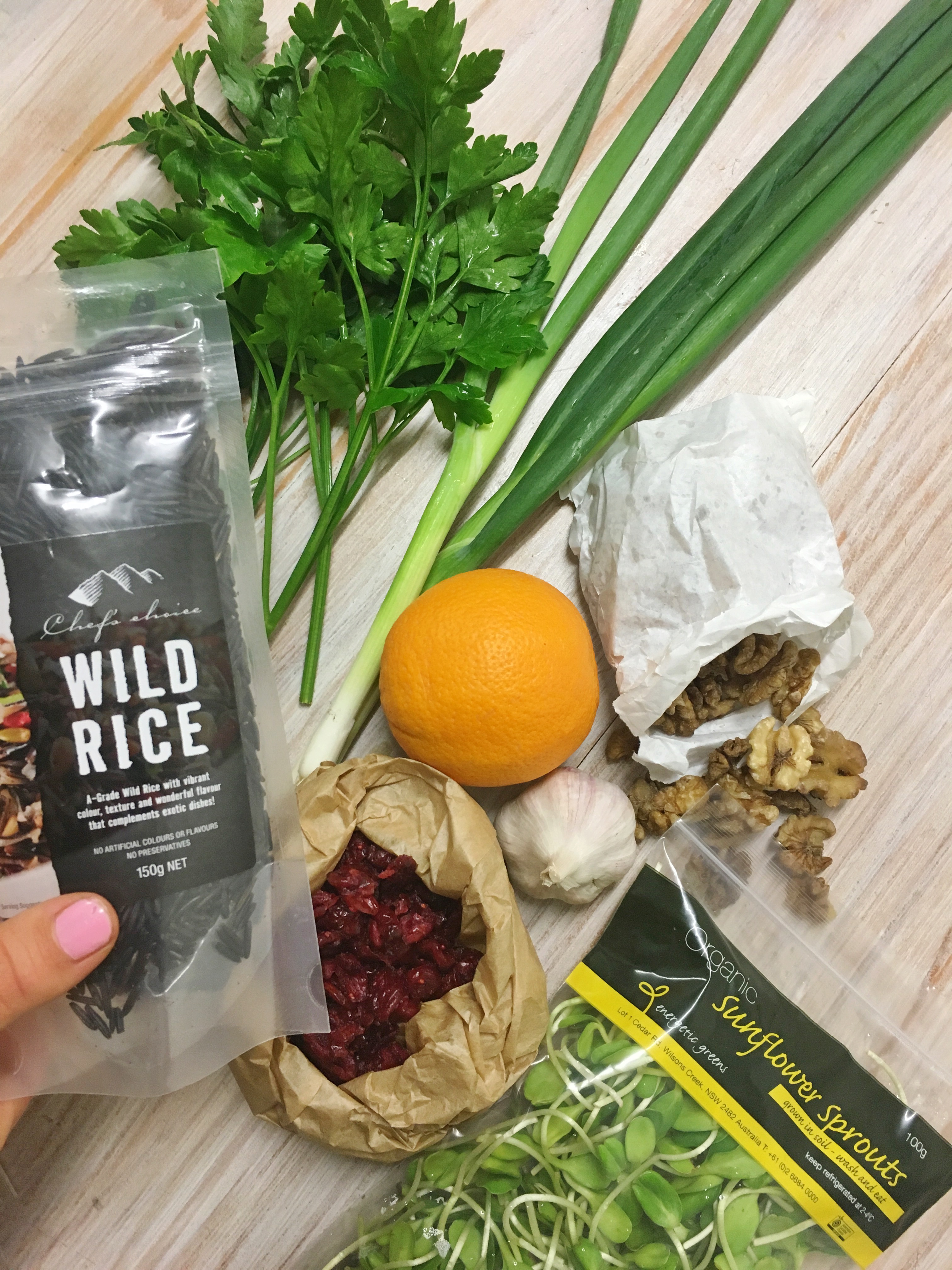 – 1 cube Massel vegetable stock
– 1 star anise

For the salad:
– 1 packet of Chef's Choice Wild Rice (150g)
– 1/2 cup sunflower sprouts
– 1/4 cup walnuts, chopped roughly
– 1/4 cup dried cranberries
– 1 eschallot, halved length-ways and chopped
– 1 good handful of parsley, chopped

For the dressing:
– 1/2 orange (juice)
– 1/4 cup organic extra-virgin olive oil
– 2 garlic cloves, minced
– 1 tsp stevia granules (or 1-2 tsp maple syrup)
– Salt and pepper to taste


What to do…
For the poached turkey:

– Bring 4 cups of water, the thyme sprigs, orange rind, vegetable stock cube, and star anise to the boil.
– Add turkey breast to seasoned water, reduce heat, and leave to simmer uncovered for 20mins.
– Take turkey from the seasoned water, and let sit to cool before slicing.

For the salad:
– Bring 630ml of water to boil in a medium saucepan.
– Add wild rice to boiled water, reduce heat and simmer covered for 45 mins.
– Drain any excess liquid and fluff with a fork.
– Heat (lightly toast) chopped walnuts in a small fry pan.
– Assemble salad by layering the rice, cranberries, sprouts, walnuts, eschallots, parsley, and turkey.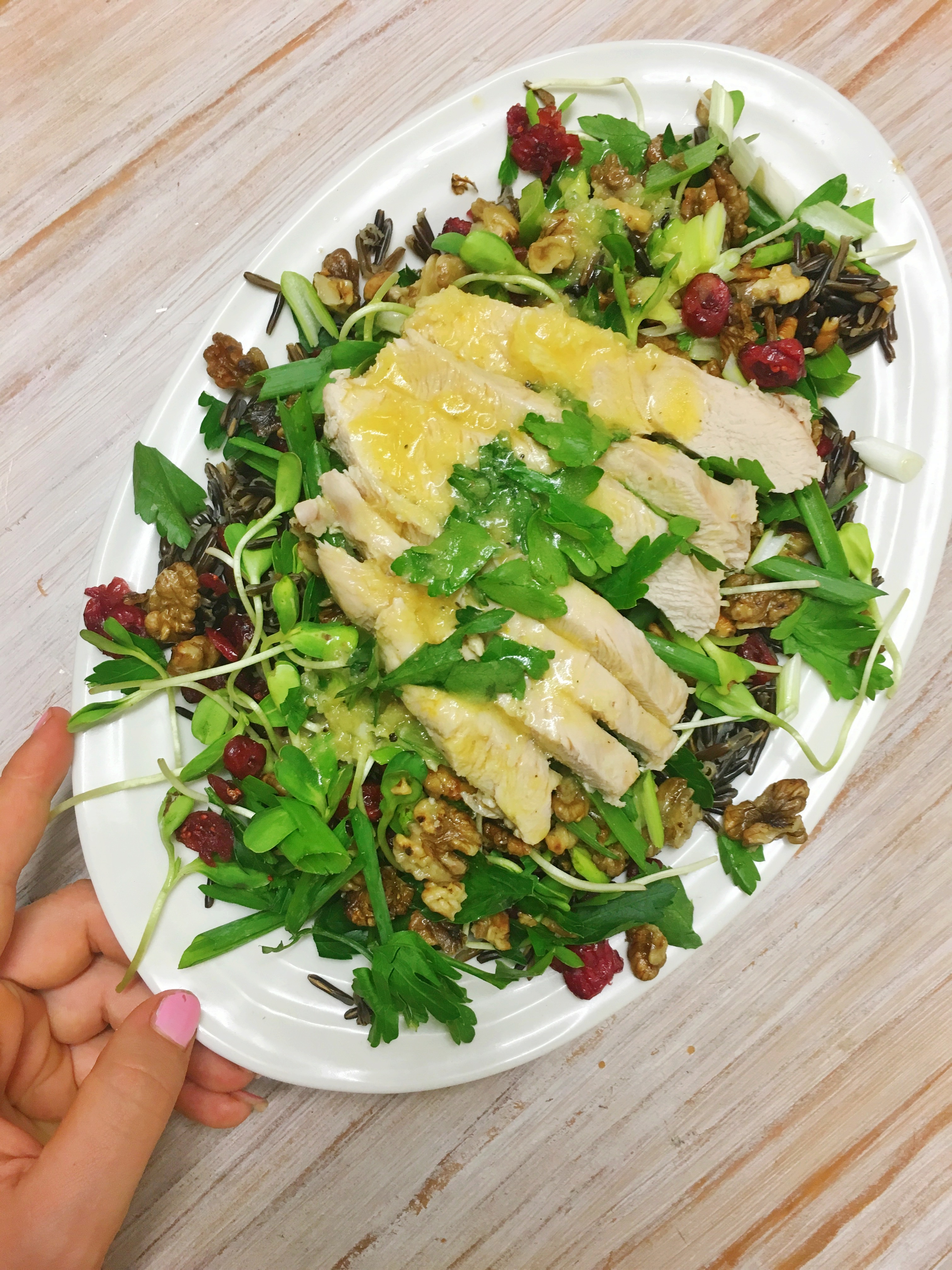 For the dressing:
– Combine orange juice, olive oil, garlic, stevia, salt, and pepper in a small jar.
– Shake to combine and drizzle over prepared salad.

Enjoy!



Be sure to tag us @vivehealth #vivehealth with your creations!
Bella Walton | Naturopath