By Nutritionist Megan Crockart
Do you feel bloated, lack energy, suffer migraines, have skin complaints, experience regular bouts of diarrhoea or irritable bowel?
Any of these symptoms and many more can be the signs that your body is not able to process gluten (the protein in grains such as wheat, spelt, rye, barley and oats) as well as it could. Not everyone can tolerate gluten all of the time, or at all, and how well gluten is tolerated can depend on other factors such stress.
Many people are gluten intolerant and don't actually realise it. Trying a gluten free diet for 3-4 weeks could provide you with answers to how you have been feeling.
Reducing gluten in your diet can help reduce inflammation in the digestive tract and generally make you feel better.
Most people love to eat bread and/or pasta and there is now, more than ever before, a larger variety of healthy gluten free products on the market. The breads and pastas have changed considerably to when they first came onto the market and now include many different varieties with numerous gluten free grains to suit many different tastes.
Some great gluten free bread options include Britt's Sunflower Rice Bread, Choices Bagel's, Naturally Gluten Free's Banana Bread, Sol Bread's Rice and Pumpkin, Schar's Pan Carre and Zehnder's Turkish Bread. Gluten free pastas aren't just made from rice or corn anymore. Now grains and legumes like quinoa, amaranth, buckwheat (don't be mistaken by the name, buckwheat is not related to wheat at all as it is not a cereal), mung beans and black beans are being used to make fantastic pastas. Some of these include Berconia's Brown Rice Macaroni, Explore Asia's Organic Black Bean Spaghetti, Olive Green's Royal Quinoa & Rice Penne and Orgran's Buckwheat Pasta Spirals.
Here are some quick and easy dinner recipes using gluten free pasta and/or bread:
Speedy Spaghetti
1 tablespoon olive oil
1 onion, finely chopped
2 garlic cloves, crushed
200g button mushrooms, thickly sliced
400g tinned kidney beans, rinsed (Global Organics Red Kidney Beans)
400g tinned diced tomatoes (Spiral Organic Diced Tomatoes)
375g pasta sauce (Ozganics Tomato & Basil Pasta Sauce)
2 tablespoons torn basil leaves
150g gluten free spaghetti (Olive Green Organics Amaranth & Rice Spaghetti)
Cook spaghetti in a large pot of boiling water as per the instructions on the packet, using a pinch of sea salt. Rinse well.
Meanwhile, heat olive oil in a sauce pan and add onion and garlic stirring until onion is cooked, about 5 mins.
Add mushrooms, kidney beans, tomatoes and pasta sauce. Stir through and bring to the boil. Simmer for 10 minutes.
Stir through basil leaves just before serving. Add the cooked spaghetti to the sauce mixture and mix well. Serve with a green garden salad.
Gluten Free Bruschetta
1 tablespoon extra virgin olive oil
Gluten Free bread sliced (such as Schar's Casereccio)
2 tomatoes, finely diced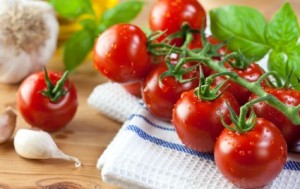 1 small red onion, finely diced
1 garlic clove, crushed
1/4 cup olives, pitted and chopped
1 tablespoon freshly torn basil leaves
Freshly cracked black pepper
Mix together in a bowl, oil, tomatoes, olives, onion, garlic and basil.
Grill bread until toasted. Top bread with a spoonful of mixture.
Freshly crack pepper on top to taste.