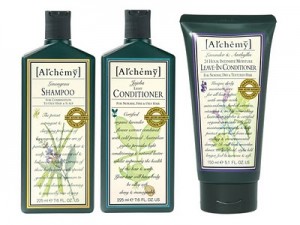 Al'Chemy Hair Care Range
Struggling to find the perfect shampoo & conditioner to help restore dry and damaged hair?
Al'chemy Hair care range is by far one of the best I have found on the market and will leave your hair incredibly soft for days. This beautiful range is enriched with certified organic floral extracts, botanical cleansers and revitalising moisturisers to help bring dry and damaged hair back to life! Do not waste any more money on expensive hair treatments and leave in conditioners as Al'chemy Shampoo and conditioner will do the trick after the first wash and you'll wonder how you ever survived without it!
There are 9 different products from this range in store to cover all hair types. There is also an intensive conditioner for dry and damaged hair. Check out the range on our website or drop in and one of us will help you choose which one is best for your hair type. Al'chemy.