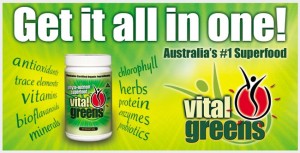 I have been taking Vital Greens almost every morning for the last three years. I would go as far as to say it the one whole food supplement that I simply cannot function without. Every now and then I do run out and have a few days when I don't get my green fix. Let's just say I feel like I've been run over a by a truck carrying a load of African elephants on their way to the Biggest Looser auditions for zoo animals. But when I take it consistently, I feel like I could take on the incredible Hulk or at the least, his incredible pet Parrot.
Vital Greens tag line is "nutrient rich for the time poor" so if you're not feeling the best and you don't have time or energy to make fresh juices every day then Vital Greens is a perfect supplement for you. I have two heaped teaspoons in a glass of water but I've aslo put it in smoothies and protein balls…Yum
To get you started we have a SALE on Vital Greens at the moment.