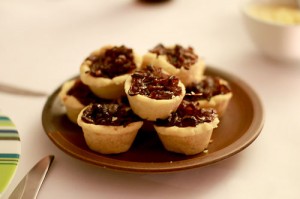 While many people believe that "gluten free foods" and "baking" are phrases that should not be uttered in the same sentence, there are some great products available that don't compromise taste or quality – like the ingredients for these scrumptious gluten free tartlets! The gluten free cases can be made ahead of time and frozen for a go to snack you can quickly fill with all sorts of yummy fillings, or bake them fresh for a warm, homely treat. This recipe is for eight tartlets.
Pastry:
2 cups gluten free flour
150 g chilled butter, chopped into small cubes
1 egg or 1 teaspoon of Organ No Egg Natural Egg Replacer and 2 tablespoons of water
2 tablespoons of iced water
1 teaspoon of salt
Filling:
3 eggs, lightly beaten, or 3 teaspoons of Organ No Egg Natural Egg Replacer and 6 tablespoons of water
150 g fresh ricotta
100 g goat's fetta, crumbled
1 tablespoon butter
3 medium brown onions, sliced
1 tablespoon of brown sugar
2 ½ tablespoons red wine vinegar (or substitute balsamic vinegar)
1 sprig of thyme, leaves removed
Salt and pepper, to season
Pastry
A good pastry is moist, flaky and golden. It should be buttery enough to give a salty richness to the tart, but light enough that it doesn't detract from the wonderful flavours of freshly baked fillings.
To make this gluten free pastry, mix together the gluten free flour, butter and salt in a food processor and process until the mixture resembles coarse sand. Add the egg or egg replacer and the water and process just until the mixture comes together into a ball.
Turn the dough onto a lightly floured surface and knead until smooth, adding extra flour if necessary. Shape the pastry into a disc, wrap it in cling wrap and refrigerate for 10-30 minutes.
Remove the pastry from the fridge, cut into eight even-sized pieces. One by one, place each piece between two sheets of baking paper and roll to 1cm thick.  
Line a flan tin or baking tray and either fit the pastry portions into the tin or freeform the pieces into tart cases. Refrigerate the tart cases for a further 30 minutes. Meanwhile, preheat the oven to 190°C.
Remove the tart cases from the fridge, cover each one with a square of baking paper and fill with uncooked rice or beans to blind bake for 10 minutes or until the pastry is just golden. Take out of the oven and remove rice and baking paper (the rice can be reused for blind baking later). Reduce oven to 180°C. While the tarts are still in the oven, get started on the fillings.
Filling
This creamy, salty filling is beautifully complemented by the sweetness of caramelised onions. Use olive oil and omit the sugar for a slightly lighter option.
Mix eggs or egg replacer and water with ricotta until smooth. Add goat's fetta, salt and pepper, mix until combined. Divide the filling mixture between the pastry cases and bake for around 20 minutes or until the filling is puffed and firm to touch.
Meanwhile, melt the butter in a heavy-based fry pan over low heat. Add onion and cook, stirring occasionally for 20 minutes or until the onion is soft. Add the brown sugar, cook for a further minute until the sugar dissolves, then add the vinegar and 1 teaspoon of the thyme and stir until an even sticky coating covers the onion.
Transfer the mixture to a bowl and divide to top each tart. Sprinkle tarts with the remaining thyme and serve warm or cold.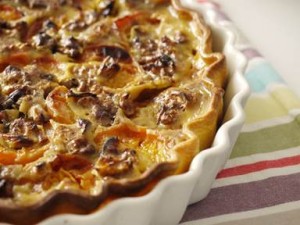 Enjoy these gluten free snacks fresh out of the oven or refrigerate, tightly covered, for up to 5 days for a great lunchbox treat. Orgran gluten free flour and No Egg Natural Egg Replacer are available in our online store. For more gluten free foods including chips and health bars, click here.