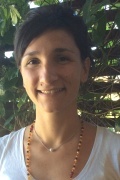 Hi, my name is Elisa Clara Spagni and I have just joined the team at Vive Health as a Remedial Massage Therapist.  I am 34 years old and was born and raised in Milan, Italy and have been living in Australia for 4 years with my wonderful partner and the most beautiful baby boy, Eli.
I have a Degree in Sports Science and am a member of the Australian Association of Massage Therapists (AAMT) and a registered Health Fund Provider with most health funds. (Please ask for details)
With 12 years experience in the health and fitness industry, I genuinely love my work. I am passionate about helping every person achieve health and wellbeing through natural therapies while providing helpful lifestyle advice.
Using a combination of effleurage, deep tissue massage, lymphatic drainage and pressure point therapy, my treatments encourage relaxation, healing, rehabilitation and are beneficial for the management of sports injuries.
You can choose between:
Remedial massage
Sport massage
Relaxation massage
Anti-stress massage
Pregnancy massage
Postpartum massage
Infant massage
If you suffer from any of the following, come and see me!
muscle pain discomfort, general stiffness
soreness due to overtraining or stressful posture positioning
lower back pain, neck pain
pregnancy discomfort
joint pain
headaches and migraines
tiredness
insomnia
slow digestion
chronic fatigue
stress and tension
poor concentration
…or you may be simply need to relax!
I specialise in Sports Science, pregnancy and baby massage and will individualise a treatment plan to suit your circumstances.
I am excited to have joined the highly-skilled multidisciplinary team at Vive Health and look forward to meeting you all.
Click here to read about the different massage therapy options Elisa offers.
Read more about Elisa Here or contact Elisa on 0450 520 014