We always yearn for food that fills us with comfort and contentment during the colder months. Being coeliac or gluten-mindful shouldn't have to affect your winter eating habits. To prove this, we've put together 10 delicious winter meal ideas for a gluten-free diet.
Stews/Casseroles
Casseroles and stews are great for a cold winter's evening because it not only keeps you warm but its hearty too. You can make an endless variety of casseroles by simply switching ingredients in the standard casserole formula. For main dish casseroles you need a protein source, a sauce, a starch and some vegetables. Protein sources can be any type of meat, cheese or beans. The starch can be rice, rice noodles, potatoes or sweet potatoes. The sauce can be cream soup, a tomato soup or salsa. As for vegetables, choose whatever complements the rest of the ingredients.
Here's one of our recipes to get you started: Slow Cooked Lamb with Red Wine Sauce and Parsnip Mash
Soup
The ultimate winter food, soup makes satisfying, nutritious and cost-effective meals served with gluten-free bread (or make your own using a gluten free bread mix). They are easy to prepare and there is such a wide selection of quick and easy recipes. Pumpkin soup, tomato soup, split pea soup, the combinations are endless. Here are some of our favourites: Winter Warming Cleansing Broth and Vegetable soup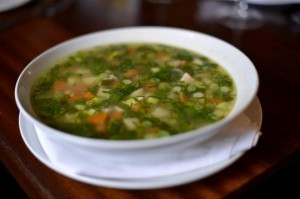 Tagine
In a world obsessed with cooking shows, we're confident you know what a tagine is but if you don't, a tagine is a dish that is named after the earthenware pot in which it is cooked. A staple cuisine in North African culture (most know it as a 'Moroccan' dish) cooking a tagine is a great way to spice up your winter (pun intended) and expand your culinary repertoire. Popular tagine recipes feature cous cous however as this food contains gluten, make sure to swap it with quinoa.
Gluten-Free Lasagne
Most people mistakenly think they need to give up lasagne to follow a gluten-free diet but this is incorrect. Gluten-free lasagne sheets are now available such as Organ Rice and Corn Lasagne Sheets and Casalare Pasta Gluten Free Lasagne Sheets so you don't need to give up eating this delicious winter favourite. If you're stuck on recipe ideas, why not try our popular vegetarian Lentil and Pumpkin Gluten Free Lasagne.
Curries
Deeply satisfying and a great choice for vegetarians, a curry dish is always full of flavour and wickedly indulgent. Whether you choose a Thai Green Chicken Curry or a spicy Beef Vindaloo, enjoy it with a side of rice or gluten-free roti bread.
Risotto
Like soup, risotto provides a sense of comfort and well-being that you crave for during the colder months. The texture of risotto is akin to a warm blanket wrapped around you, perfect for winter. Mushroom risotto is a popular recipe but using organically farmed Organico Porcini Risotto will make it extra special.

Roast Dinner
If you have the time and inclination, nothing beats a classic roast dinner. The ultimate comfort food, we take enjoyment and pleasure from cooking and eating a traditional roast meal complete with crispy roast potatoes, peas, steamed veggies and gravy. Just make sure to use a gluten-free stuffing for the chicken (or whatever protein you've decided to use).
Rissoles
Rissoles are easy to prepare and is a quick tasty meal, even in winter when teamed with a sweet potato mash or a warm roasted vegetable salad. You can create a variety of rissole combinations using good quality mince and a wide range of vegetables such as carrots, onions, beans, kale or whatever tickles your fancy. The sky's the limit with rissoles. Check out our popular Apricot and Turkey Rissoles recipe that's super quick and easy to prepare. Perfect if you are time poor and have hungry kids to feed.
Rice Dishes
Rice is naturally wheat free and gluten free so dishes such as fried rice and Nasi Goreng make a quick, delicious gluten-free meal. Make sure to use a gluten free soy sauce such as Chang's Gluten Free Kecap Manis Sweet Soy Sauce when cooking these types of dishes. Or you can move away from Asian-style rise dishes and try our yummy Moroccan-influenced Spiced Cauliflower with Lentils and Brown Rice recipe.
10. Poached Pear with Vanilla Sheep Yoghurt

This list would not be complete without a dessert and one we absolutely love is Matt's
Poached Pear with Vanilla Sheep Yoghurt
. The fresh, tartness of the yoghurt with the warm texture of the poached pear makes for the perfect winter dessert.
Now over to you: are you on a gluten free diet? What are some of your favourite recipes? Please feel free to share them by leaving a comment below.
If you loved this post, don't forget to sign up to our e-newsletter for more recipe ideas, member discounts and special offers.