Turmeric is gaining a lot of attention at the moment! This therapeutic herb boasts anti-inflammatory, antioxidant, and neuroprotective properties. Turmeric can be easily adapted into any diet, used in meals, baking, smoothies, and hot drinks – like this delicious Golden Mylk Latte.

What you'll need…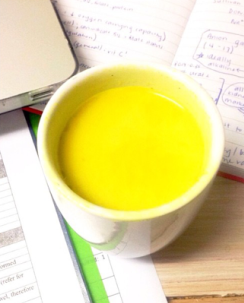 – 1/2 cup coconut milk (full cream dairy works well too!)
– 1/2 tsp organic ground Turmeric
– 1/4 tsp organic ground Cinnamon
– small pinch of cracked black pepper
(don't worry, you won't taste this, it is included to improve the therapeutic efficacy of turmeric!)
– 1 tsp coconut oil
– 1 tsp honey

How to prepare…
… On a stovetop
– Place all ingredients together in a small saucepan over a medium heat
– Bring to a slow boil, whisking together frequently
– Serve warm

… In a ThermoMix
– Place all ingredients into ThermoMix
– Heat on Speed 4, to 80 degrees, for 4mins
– Once finished, spin on Speed 10 for 15 seconds – this will make it creamy and frothy!
– Serve warm

Optional Extra:
This Golden Mylk Latte is even better with ground nutmeg sprinkled on top!


Why not give this a try, upload a snap, and tag us @vivehealth #vivehealth.