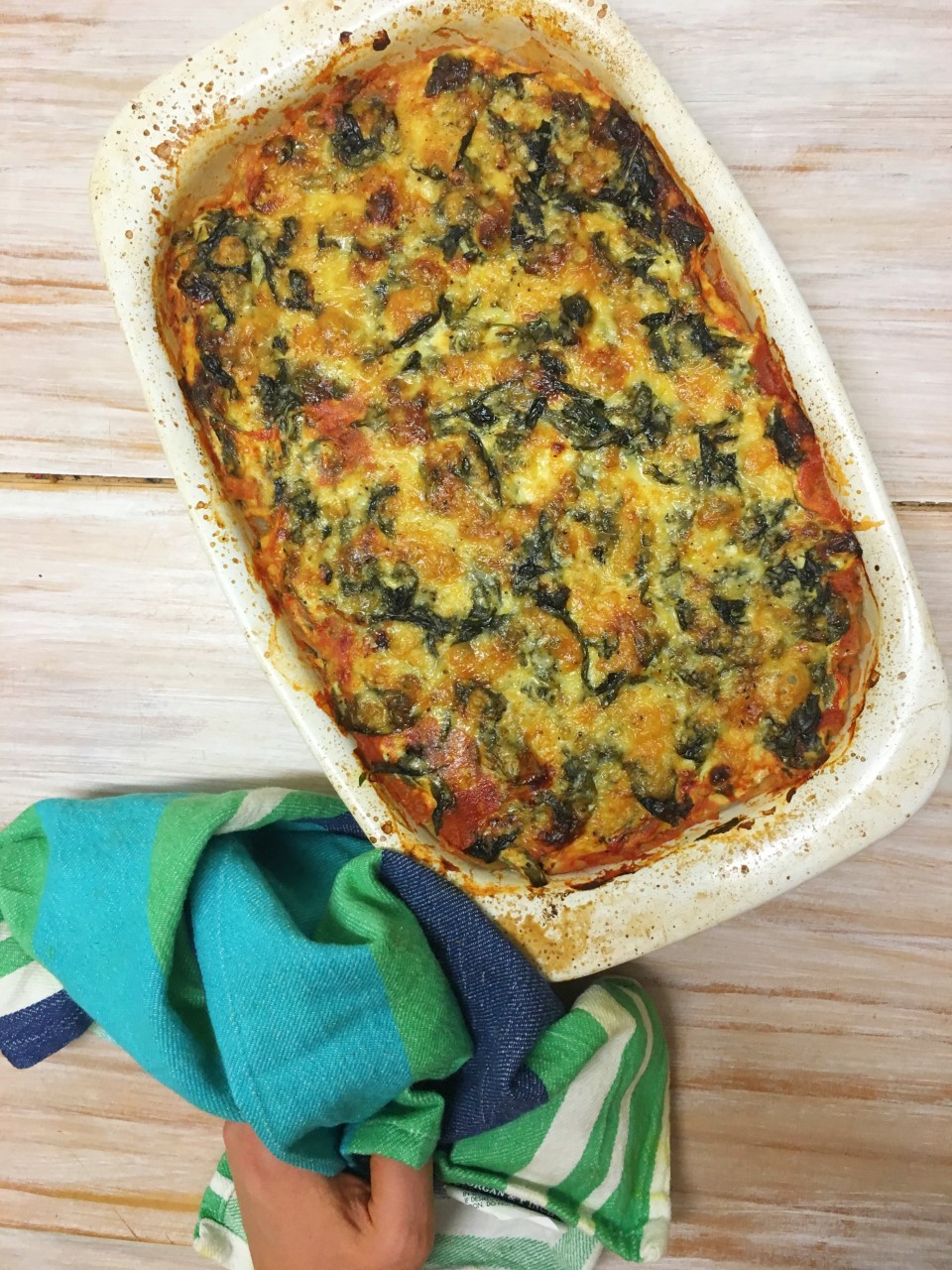 This recipe is seriously delicious! I have made it multiple times for various friends and it always gets a big tick of approval! The lasagne is an adaption of the beautiful 'Tomato, Ricotta, Kale and Basil Lasagne' from Gather and Feast. Switching traditional lasagne sheets with the konjac lasagne is a delicious and easy swap that significantly lowers the carbohydrate content, without compromising texture or flavour!
A little about Konjac…
Made from the konjac root, konjac noodles are a great substitute for pasta, as they still afford a pasta-like texture. The benefit of choosing konjac over regular pasta includes konjac being much higher in fibre with fewer calories.
What you'll need…
* 1 red onion
* 3 cloves garlic
* Pinch of hot chilli flakes
* Zest of 1 lemon
* 2x tins organic diced tomatoes
* 1 bunch basil, leaves torn
* 500g Barambah Organic High Protein Cottage Cheese
* ½ cup organic parmesan, finely grated (plus extra for topping)
* 2 organic eggs
* ½ tsp nutmeg
* 200g baby spinach
* 1 bunch kale, finely shredded
* 2x packets of Zero Slim and Healthy Noodles, Lasagna Style (Konjac Sheets)
* Olive oil
* Sea salt
* Freshly cracked black pepper

What to do…
* Preheat your oven to 180 degrees celcius
* Finely chop the onion and garlic and sauté in a pan with a little olive oil until soft
* Add the tinned tomatoes, lemon zest, chilli flakes and half of the basil into the pan with the onion and garlic.
* Simmer the sauce for 20-30minutes
* While the sauce is simmering, sauté the spinach and kale in a pan with a little olive oil until wilted, then remove from the heat and set aside
* In a medium mixing bowl add the cottage cheese, parmesan, eggs, nutmeg, salt and pepper, and mix with a fork to combine
* Add the wilted greens mix to the cheese mixture and stir to combine.
* To prepare the konjac lasagne sheets, simply remove from packet and rinse well under running water.
* Using a large baking dish, spread some of the tomato sauce onto the bottom of the dish, add one layer of konjac sheets then spread a layer of the greens and cheese mix, some basil leaves and another layer of konjac sheets. Repeat until all the ingredients have been used up.
* Finish by topping the lasagne with some grated parmesan, a drizzle of olive oil, and good sprinkle of sea salt and black pepper.
* Place the baking dish into your pre-heated oven and cook for 50 minutes.
* Once cooked, remove from the oven and serve with a fresh greens salad. Yum!

Take a snap and tag @vivestore with the hashtags #vivestore #vivehealth to show us your creations!