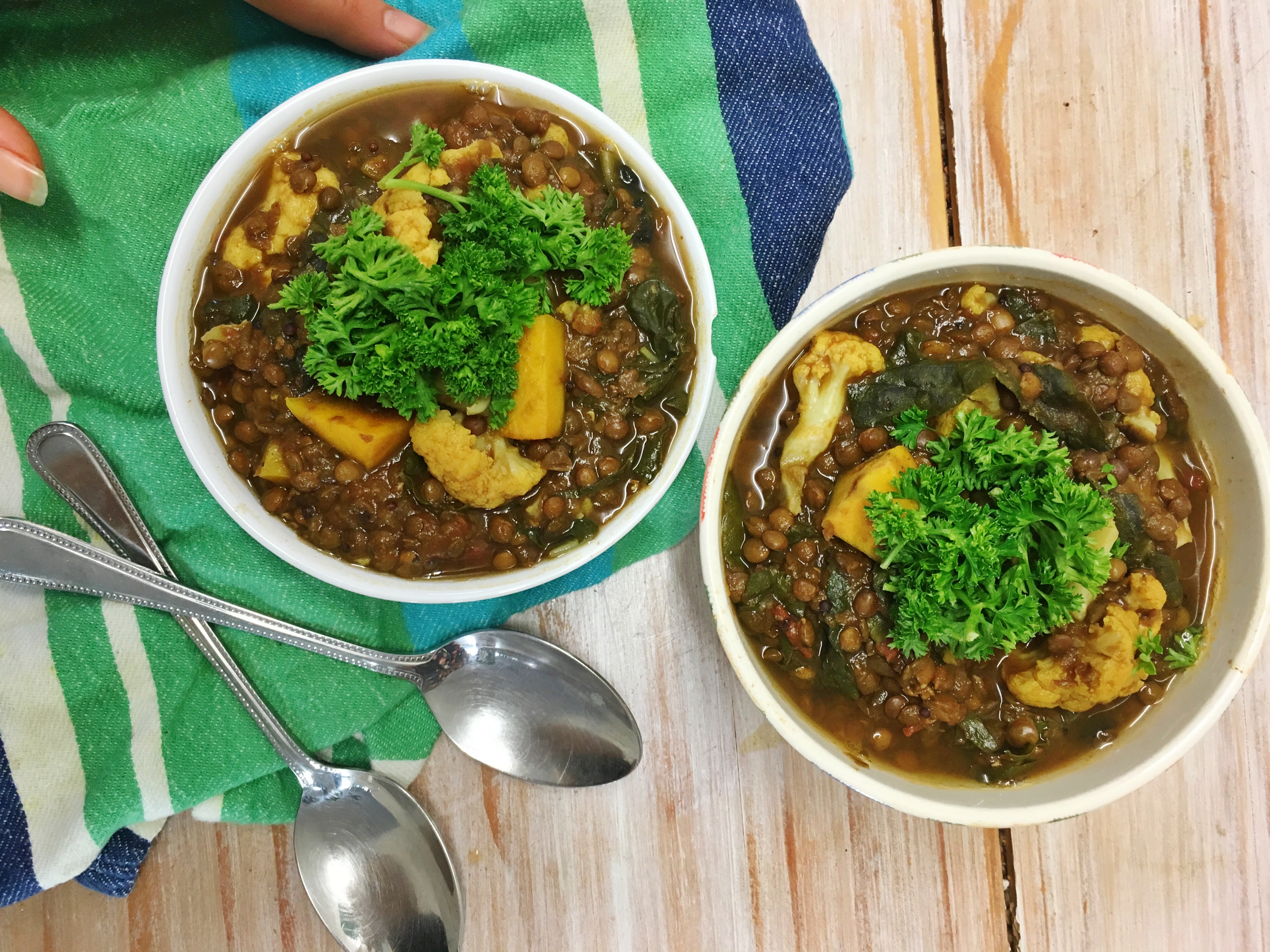 Marilyn made this delicious winter dish from the new Australian Women's Weekly  recipe book "Slow Cooker: The Complete Edition". This meal is perfect for the colder weather – satisfying, warming and nutrient dense. We've made some adaptions to the original recipe, increasing the nutrient and fibre density a little. Yum!

What you'll need…
– 500g French Green Lentils
– 45g organic olive oil
– 2 medium brown onions, chopped finely
– 3 garlic cloves, crushed
– 4cm piece fresh ginger, grated
– 1 fresh long green chilli, finely chopped
– 2tbsp black mustard seeds
– 1tsp cumin seeds
– 1tbsp ground coriander
– 2tsp ground turmeric
– 1tsp garam masala
– 1 tin (794g) Muir Glen Organic Fire Roasted Crushed Tomatoes
– 3 cups vegetable stock
– 2 cups water
– 10 medium silver beet (swiss chard) leaves, stems removed, chopped coarsely
– 1 head cauliflower, chopped into florets
– 1 small butternut pumpkin (about 750g), chopped into bite-sized pieces

What to do…
– Rinse green lentils under cold water until water runs clear; drain
– Heat olive oil in a large frying pan; cook onion, garlic, ginger, chilli, stirring, until onion softens. Add seeds and spices; cook, stirring, until fragrant.
– Place onion mixture into a 4.5L slow cooker; stir in tomatoes, stock, the water, and green lentils. Cook, covered, on low, for 8hrs.
– Add in cauliflower and pumpkin. Continue to cook, covered, on low, for a further 2hrs.

Happy cooking :)
Take a snap and tag @vivestore with the hashtags #vivestore #vivehealth to show us your creations!