Another delicious recipe from Simple Nourishment! Why not make a batch for back to school lunches this week – yum! Be sure to check out the recipe book, Super Snacks, from Simple Nourishment in store at VIVE.

Prep: 15 mins | Cook: 10–15 mins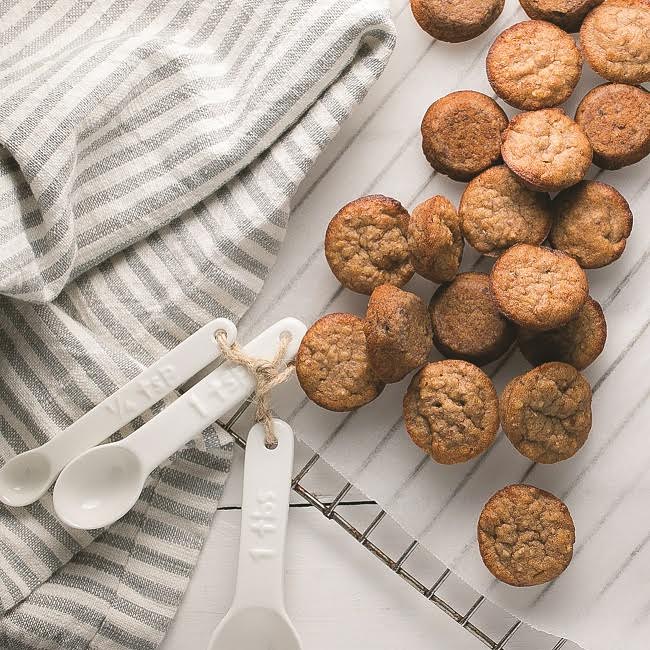 Dairy free

What you'll need…
1⁄4 cup coconut oil
2 ripe bananas
1 egg
2 tbs honey
1⁄2 cup rolled oats
1⁄4 cup almond meal
2 tbs LSA
1 tsp vanilla extract
1⁄2 tsp baking powder
1⁄2 tsp ground cinnamon
1⁄3 cup walnuts
pinch of salt

What to do…
PREHEAT fan forced oven to 180°C (200°C conventional).
GREASE a muffin tray with spray oil.
ADD all of the ingredients to a food processor and mix on high until the oats are broken down and the mixture is of a smooth consistency.
POUR batter into muffin tray.
BAKE for 10-15 minutes until a toothpick can be inserted and comes out clean, turning the tray half way through cooking time to ensure even baking.

Extras
When getting the muffins out of the tray, run a butter knife around the edge of each muffin to unstick them.  Keeps for up to a week in the fridge. If after a few days in the fridge these muffins seem a little dry, just give them a few seconds in the microwave before eating.