Peter Christinson (Student Naturopath)
Whether it's been a long day at work and you're still a bit peckish after dinner, or you're just a little brain-dead and looking for some serious nourishment after a study session, this is a quick, easy and nutritious treat, which satisfies every time.
With a base of yoghurt this treat packs a pro-biotic punch, helping to keep your gut in top shape. It's also a tasty way to sneak an extra 20 grams or so of protein into your day. Topped with berries, crushed nuts and seeds, it contributes plenty of flavonoids and fibre towards antioxidant activity and keeping you regular.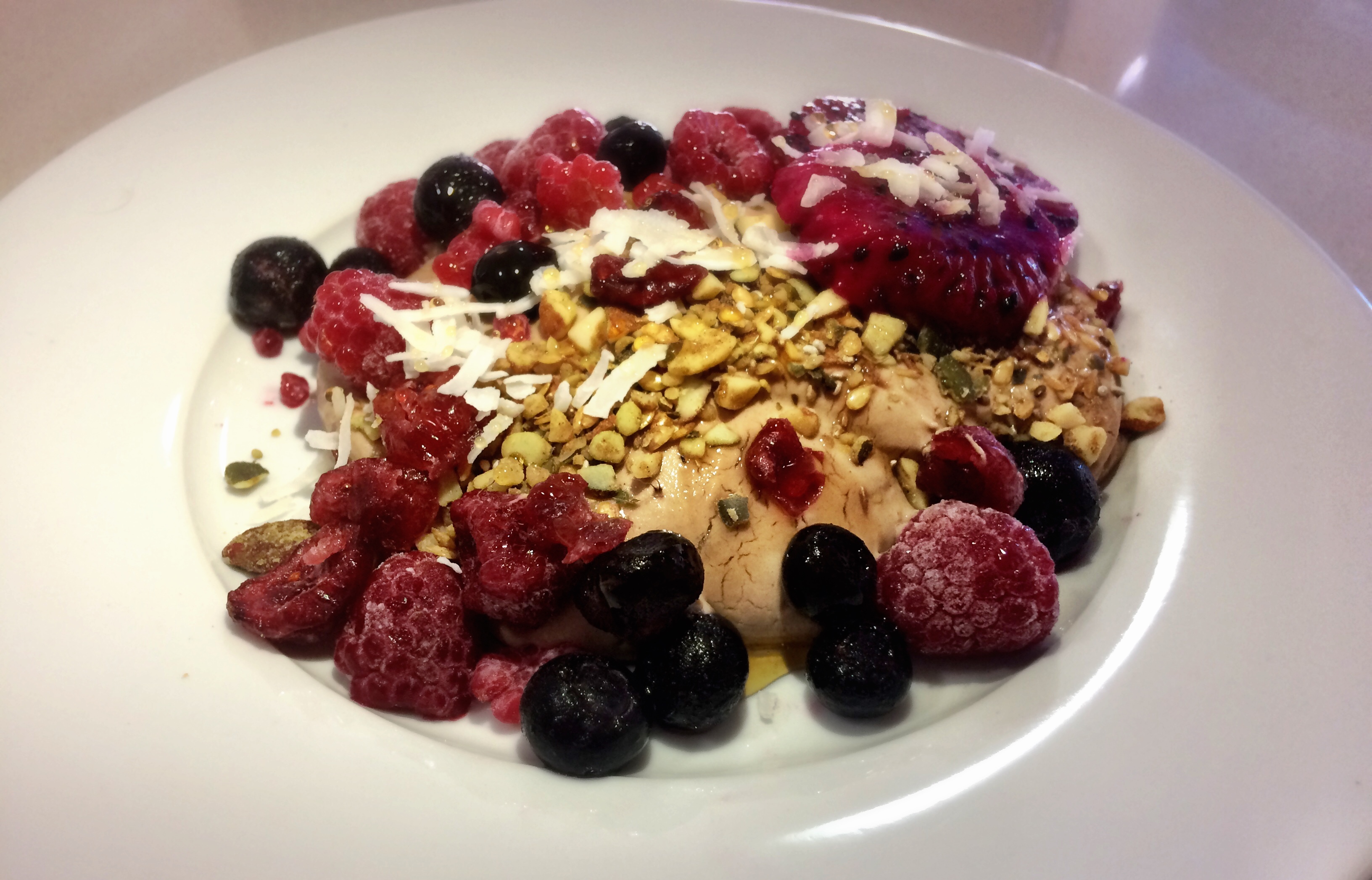 Ingredients
3 Tbs of Meredith sheep yoghurt
1 heaped Tbs of chocolate flavoured PRANA protein
¼ cup of mixed berries (I use raspberries, blueberries & cranberries)
1 Tbs of crushed nut/seed mix
½ tsp of honey
Pinch of shredded coconut
Method
1. Combine three tablespoons of yoghurt with one heaped tablespoon of protein powder.
2. Mix these together until you have created a silky mousse like consistency (less than 1 minute).
3. Top with berries and nut/seed mix. Drizzle with half a teaspoon of honey and pinch of shredded coconut. It's like a deconstructed cherry ripe. Delicious.


Linda Brown (Naturopath)
It's not entirely 'pure' but it's not horrific junk on the other hand. Paleo purists might pass out with jealously so it's probably worth breaking for one slice. Anyway blueberries daily are clinically proven to improve memory.
Method

1. Heat 1 x gluten free sheet of puff-pastry in the oven (180 deg C) for 20 minutes to puff it up slightly.
2. Pour 1 x packet frozen blueberries or raspberries on top & drizzle with a little maple (or honey) & cinnamon.
3. Bake for 30-40 minutes.
4. Keep it warm until dessert time, then whip it out of the oven with a flourish. You might require an audience for that last bit.


Marilyn Lemaire (Master Herbalist)
Raw Cashew & Vanilla Cheesecake
This cheesecake is a new discovery and with a few alternations to make it vegan has become a favourite.
Crust
300gm Activated Almonds
250gm Medjool dates
2 Tbsp coconut oil
Filling
3 cups of (8 hours) soaked raw cashews
160 ml coconut oil
250 ml coconut cream
6 tbsp lemon juice
2 tsp vanilla
½ cup maple syrup
Method
1. For crust blend all ingredient in a food processor and press into base of cheesecake tin. Refrigerate until filling is ready.
2. For filling gradually add all ingredients to a food processor. Start with Cashews and coconut oil. Blend until smooth. Add coconut cream, blend well. Then add lemon juice, vanilla and lastly maple syrup.
3. Pour filling into to Cheese cake tin and place into freezer for a minimum of 5 hours to make it set. Take out of freezer approx. 2 hours before serving & decorate with fruit.


Mindy Duncan (Student Naturopath)
This recipe is taken straight out of the pages of Madeleine Shaw's Ready-Steady-Glow cookbook and such an easy recipe to whip-up when those sweet cravings come a knockin'.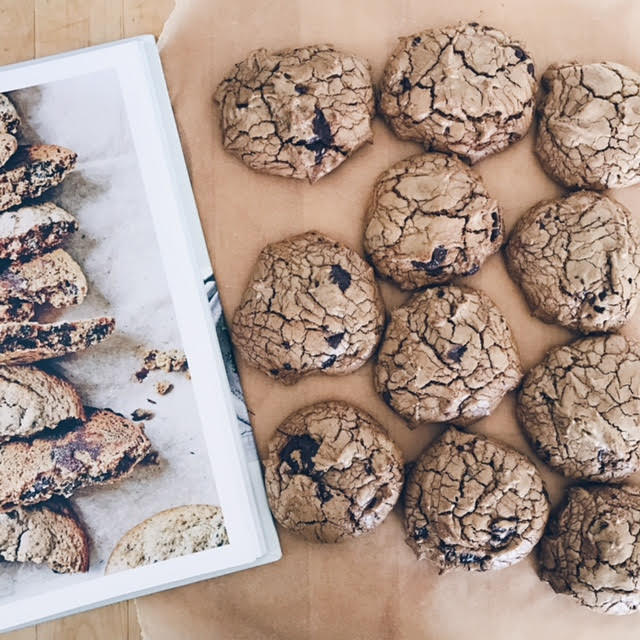 Ingredients
150g coconut oil (not melted if possible) or unsalted butter
175g coconut sugar
1 egg, beaten
1 tsp vanilla extract
200g rice or buckwheat flour
1 tsp baking powder
150g good quality dark chocolate, broken into chunks (I use Organic Times Dark Chocolate)
pinch of salt
Method
Preheat the oven to 160°C & line a large baking trays with baking paper.
Cream the coconut oil (or butter) and sugar in a food processor, then add the egg and vanilla and process again. Sift in the flour, baking powder and a pinch of salt and process until fully combined. Throw the chocolate chunks into the dough and process for 30 seconds so the chunks break down a little and are mixed into the dough.
Roll the dough into walnut-size balls and place on a baking tray about 5cm apart. Bake for 12–14 minutes until golden around the outside, then remove from the oven and leave on the trays to cool and harden.
Eat them all !!!!


Megan Crockart (Nutritionist)
I have always had an interest in desserts, as at one stage I contemplated being a pastry chef.  After becoming a nutritionist I have focussed more on healthy desserts/sweet treats and in more recent times, I have developed an intolerance to eggs/dairy, so most of my favourite go to treats are raw to accommodate no egg/dairy.  I try not to use regular cane sugar in any of my desserts or sweet treats.
One of the biggest crowd pleasers is my Guilty-Pleasure Salted Caramel Slice https://www.vivehealth.com.au/blog/2015/06/26/guilty-pleasure-salted-caramel-chocolate-slice/  But if I am lacking time/ingredients, these Bliss Balls are an easy and delicious treat to throw together.

Bliss Balls
Ingredients
1/2cup raw cashews soaked in water for 4 hours
1cup desiccated coconut (plus an extra 1/2 cup for rolling)
1/2 cup frozen raspberries/blueberries/mixed berries
2tbsp maple syrup
1tsp lemon zest
Methods
1. Drain the cashews. In a high speed blender combine all ingredients. Blend until well combined.
2. In your palm roll small bite size portions of the mixture and toss in the extra coconut.
3. Keep the fridge for up to two weeks. Enjoy.


Therese Hodgkinson (Naturopath)
Magic Bean Cake
This is my favourite cake to make for special occasions when guests come over. Kids & adults both love it & are always surprised when they find out the ingredients. It's gluten & dairy free too.
Ingredients
400g tin red kidney beans, drained & well rinsed
1 tablespoon vanilla extract
5 eggs
1 tablespoon water or black coffee
1/3 cup cacao
½ teaspoon bicarb soda
1 teaspoon baking powder (gluten free)
1 teaspoon cinnamon
1/3 cup coconut oil
1/4 teaspoon sea salt
½ cup raw sugar (or stevia)
Method
1. Preheat oven to 180 C. Line a 20cm round cake tin with baking paper.
2. Mix kidney beans, water, vanilla, coconut oil, 1-2 eggs in a food processor until smooth (about 5 min)
3. Add the rest of ingredients for another minute or so until well combined.
4. Pour into lined cake tin & bake for approx 30-40 minutes, checking regularly until firm in the centre.
5. After cooling on a wire rack, dust with icing sugar. Top with raspberries just prior to serving.